Syrians in Idlib's Maaret al-Nu'man take to streets in anti-HTS demonstration
Hundreds of demonstrators took to the streets on Friday (November 8) in Idlib province, chanting anti-Assad and HTS militia slogans and confirming the continuity of the Syrian revolution and condemning Assad and Russian bombardment on Idlib.
The protests took place in Idlib city and Maaret al-Nu'man city in Idlib countryside.
The demonstrators in Maaret al-Nu'man city condemned Hayet Tahrir al-Sham (HTS) and expressed their support to their fellow citizens in the town of Kafr Takharim against HTS practices.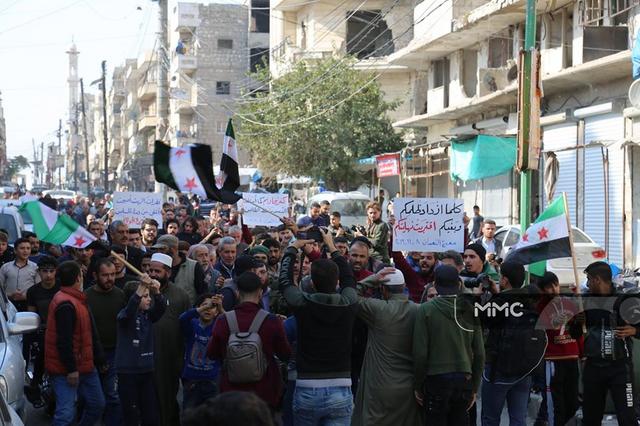 HTS militiamen stormed the town of Kafr Takharim in Idlib western country on Thursday, killing two civilians and injuring others.
The reason behind the clashes between HTS and local fighters was appointing a HTS member at every olive press to control the local production of the olive oil in a step to impose Zakat on owners of the olive presses, the sources explained. 
Locals rejected the idea of appointing a member and said they will distribute the charity or Zakat on IDPs and poor people they know and that they don't want this to be imposed on them.