Syrian doctor saved thousands in underground hospital
THE CRACK OF thunder; a plane streaming overhead; a knock on the door. Amani Ballour is afraid of loud noises. The sounds remind her of the fighter jets and ferocious shelling that forced her to reluctantly flee her native Syria in 2018.
The 32-year-old pediatrician does not find relief in the quiet of her sparsely furnished two-room apartment in Gaziantep, Turkey. In the stillness, she remembers the young patients she calls "my children," those who survived and the many more who didn't.
For two years, from 2016 to 2018, Ballour ran an underground field hospital known as the Cave in her hometown of Eastern Ghouta, near the Syrian capital Damascus. There, she witnessed war crimes including the use of chemical weapons and chlorine bombs, and airstrikes on hospitals, attacks that targeted a place of refuge and those already wounded.
"There was no safe space," Ballour says. "Imagine being the victim of an airstrike, you're treated in hospital, and then bombed there too. The hospital was hit many times. I've been asked to verify how many strikes. Believe me, I couldn't count them all."
As the administrator of the Cave, Ballour was responsible for a staff of some 100 people in a town besieged by troops loyal to Bashar al-Assad. For years, essential items such as food and medical supplies were restricted or forbidden from entering the opposition town of Eastern Ghouta, part of Assad's "starve or submit" stranglehold, forcing Ballour and others to smuggle goods in.
Assad's warplanes and, beginning in September 2015, Russia's fighter jets drove the hospital deeper underground into a maze of tunnels and bunkers.
Ballour's journey is featured in a National Geographic documentary, The Cave, directed by Feras Fayyad, who in 2018 was nominated for an academy award for Last Men in Aleppo. The Cave tells the harrowing story of Ballour's struggle to provide healing and comfort in the midst of war in a subterranean hospital. 
The youngest daughter in a family of three girls and two boys, Ballour says that from childhood she aspired "to do something different" rather than become a homemaker like her older sisters, who married in their teens and early 20s. Her heart set on mechanical engineering, she enrolled in Damascus University. But the pressure of societal gossip, and her father's opposition to her plans, prompted her to switch to medicine, a discipline she says was considered "a more appropriate career for a woman, but as a pediatrician or a gynecologist."
Ballour chose healing children and ignored the many naysayers who mockingly told her that "'once you get married, hang your degree in the kitchen.' I heard this phrase so many times."
In 2011, when the wave of peaceful Arab protests reached Syria, Ballour was a fifth-year medical student, a year away from graduating. The protests quickly engulfed Eastern Ghouta. Ballour marched in a demonstration but didn't tell her family, certain that her parents "would have been a million percent against it they were very afraid something would happen to me." At another protest, she captured brief snippets of video but was too scared to disseminate them. "I was terrified of being detained," she says. Still, the experience was exhilarating. It felt "like I was breathing freedom, it was incredible. It was so empowering simply to say 'no' to what was happening in this country that had been ruled for decades by one regime."

By that time, the Assads—Bashar and, before him, his father Hafez—had ruled Syria with an iron fist for more than four decades. Ballour remembers how as a child she knew that "it was forbidden to speak of certain things, to mention the name of the president, Hafez al-Assad, in any way except to praise him the walls had ears." She'd heard only whispers of the 1982 Hama massacre, when Hafez al-Assad's forces killed thousands of people, insurgents and civilians, in a short-lived Islamist insurrection. "My parents didn't tell us about the Hama massacre, and they should have," she says.

When Bashar al-Assad succeeded his father in 2000, Ballour wondered why Syrians couldn't elect a leader with a different surname. "When I asked about it I was told to be quiet, that somebody might hear us," she says. "It was very frightening."

As the Assad regime violently cracked down on the protest movement, beating demonstrators with whip-like rods and firing tear gas and live bullets into crowds, Ballour was drawn into the worsening situation, but not as a protester. In the early years of the Syrian revolution, security forces routinely hunted wounded protesters in hospitals. Those seeking medical treatment risked being detained—disappearing into the regime's network of dungeons—or worse, killed on the spot. Secretive field clinics quietly sprung up in homes and mosques and other places.

Ballour remembers being summoned from home by neighbors to treat her first patient, who was wounded in a protest. It was in late 2012 and she had just graduated. "He was a child who was shot in the head. What could I do for him? He was dead," she says. "He was about eleven years old."

Her first job, as a volunteer without pay, was treating the wounded in a field hospital set up in a partially constructed building that the regime had slated to become a hospital. She was one of two full-time physicians working there. The other was the clinic's founder, Salim Namour. A general surgeon 26 years Ballour's senior, Namour remembers meeting the young woman soon after she graduated. "She introduced herself and offered to help," Namour recalls. "Many experienced doctors were fleeing to safety but here was this young graduate who stayed to help."

At the time, the facility consisted of an operating room and an emergency room in the basement. It would soon expand into a web of underground shelters and become known to locals as the Cave. Wards including pediatrics and internal medicine were added. More doctors, nurses, and volunteers joined the effort. The hospital relied on machinery and equipment taken from damaged hospitals near the frontlines, and smuggled medical supplies paid for by international and Syrian NGOs in the diaspora.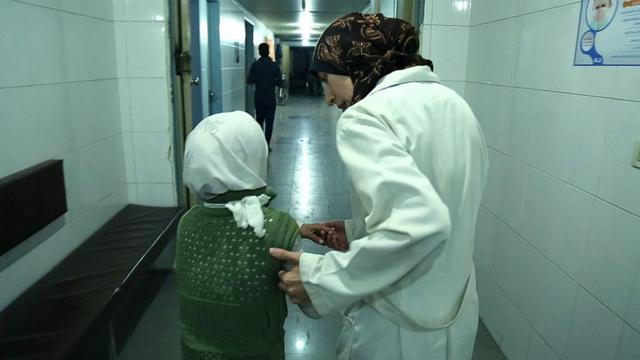 Ballour was not a trauma surgeon, but when the casualties came in, even veterinarians and optometrists treated the wounded. She had to learn quickly, not just emergency medicine, but dealing with the horrors of a savage war. The first mass casualties she saw were charred bodies. Even years later, she can vividly recall "the smell of people burnt beyond recognition and some of them were still alive. It was the most shocking thing I'd seen at the time, I still didn't have experience, I was a new graduate. I was so shocked I couldn't do my job. But then I saw many massacres, so many casualties, and I got to work."

On August 21, 2013, Ballour and her dedicated colleagues faced a new horror: chemical weapons. The Sarin attack on Eastern Ghouta killed hundreds. Ballour recalls rushing to the hospital in the dead of night, picking her way past people, dead and alive, sprawled on the floor to reach the supply room to begin treating patients. "We didn't know exactly what it was, just that people were suffocating. Everybody was an emergency case. A patient who is suffocating cannot wait, and they were all suffocating. We saved who we saved and the ones we didn't get to in time died. We couldn't manage."

The following year, Namour formed a local medical council from the 12 remaining physicians serving a population of some 400,000 people trapped in Eastern Ghouta. The council included two dentists and an optometrist. Not all of those on the council worked in the Cave but together they decided to elect an administrator of the Cave to a six-month term, later expanded to a year. Toward the end of 2015, Ballour decided to stand for the position. "I didn't see why I couldn't be an administrator especially if it was just because of my gender. I am a doctor and they (the two previous male administrators) are doctors. I was in the hospital from the first day, I knew what it needed, I had ideas to expand it, I had a plan."

Her father and brother advised against it, given that Ballour was already spending all of her days and many nights in the Cave. "My father feared for me but I couldn't come home," Ballour says. "There weren't enough doctors. He told me that people wouldn't accept me, that I'd face a lot of problems. The next day I nominated myself and was elected hospital administrator."

Ballour assumed her position in early 2016, a few months after the airstrikes ratcheted up with the arrival of the Russian Air Force in the skies above Eastern Ghouta. The backlash from some patients and their relatives was swift and predictable. "What I heard from a lot of the men was, 'What? Have we run out of men in the country to appoint a woman?' A woman. They wouldn't say a female doctor, but a woman."

A petite, gentle woman with a face reminiscent of a Renaissance portrait, Ballour contended with conservatively patriarchal men—mainly patients and their relatives—who challenged her authority to run a wartime medical facility.

"I used to strongly answer back," she says, referring to the men who would tell her that her place was at home. "I wouldn't stay silent because when you are right, you are right.… Some of the men would say it's dangerous, the area is besieged, it's a difficult job so a man should do it. Why? A woman can also do it, and I did."

She was fully supported in her efforts by the hospital staff, including Namour. "I couldn't accept this talk," he says. "I'd tell the men: She's here with us, working day and night whenever we need her while some of the male doctors we all know fled to regime-controlled areas to work in safety. Which do you prefer? It's not about gender, it's about actions and ability, and Dr. Amani made many positive changes to the hospital."

Ballour expanded the Cave, deepening its bunkers and digging tunnels to two small medical clinics in town—and to the cemetery. "We needed to bury the dead but it was too dangerous to be above ground," she says. "We couldn't move above ground."

As the siege tightened and warplanes screamed overhead, there were opportunities to leave through the tunnels, but Ballour didn't take them. "How could I leave?" she says. "Why did I study medicine and focus on children if not to help people? To be there when they needed me, not to leave when I wanted to."

The daily casualty toll climbed into the triple digits. The hospital was repeatedly targeted in air strikes that penetrated deep into the Cave, destroying a ward, killing three personnel and wounding others. On one occasion, Ballour had just stepped out of a ward into the corridor when the rockets crashed behind her. "I couldn't hear anything or see anything. The corridor was full of thick dust that was suspended in the air." When it cleared, she found her dead colleagues: "Their bodies were in pieces."

Ambulances were struck and rescuers killed as they retrieved the wounded. Assad's final push into Eastern Ghouta in February 2018 included a chlorine attack. "The smell of chlorine was overwhelming," Ballour remembers. "I don't have the words to describe what it was like, what we lived, but I want to so that people understand why we left. People were tired and hungry. Many surrendered, including fighters who'd drop their weapons and go toward the regime soldiers. … The army was closing in on us. They weren't far, we had to flee. We feared they'd kill us if they reached us."

A UN Commission of Inquiry on Syria would later report that Assad and allied forces committed war crimes and crimes against humanity during the siege and recapture of Eastern Ghouta. Assad's methods of warfare in Ghouta were "barbaric and medieval," the UN report said, including "the longest-running siege in modern history, lasting more than five years."

On March 18, 2018, Amani Ballour and her team evacuated the wounded and abandoned the Cave, but not before the doctor walked through every room and bade it farewell. "I thought about all the people who had passed through this hospital. I was a child when the building that would become the hospital was built, and I later worked in it for six years. We were besieged there, attacked there, we saved and lost lives there. I had so many memories in that place, most of them painful but we had good times too. It was very, very painful for me to leave the hospital."

She walked away with nothing but the clothes on her back, leaving behind the cherished white coat that she'd worn since she was a medical student. "It was so bloody that I couldn't take it with me," she says. "It was very special to me."

Ballour and several of her family members and colleagues including Namour initially fled to nearby Zamalka, a suburb of Damascus, but there was shelling there too. Ten days later, Ballour was again on the move, this time to Idlib province in northwestern Syria bordering Turkey, the last opposition stronghold in the country. She'd never been to Idlib before. She moved from town to town in the province, but there was no escaping the warplanes.

She volunteered to help a pediatrician in a village field hospital but couldn't stay more than a few hours in the facility. "When I looked at the children in Idlib I remembered my children and what happened to them. I couldn't see that again. I was very psychologically drained and tired."

She was also tired of hearing some in Idlib, mainly Islamist fighters, blame her and others in Eastern Ghouta for what they termed "surrendering" to the regime. After three months in Idlib she fled to Gaziantep, Turkey in June 2018. She married an activist from Daraa whom she'd communicated with while she was in Ghouta but never previously met.

Now, she is safe, but she is not happy. The winter sun streams through her apartment windows. She is no longer underground, but she lives with the bitterness of being a refugee in a foreign land, struggling with the burden of what she survived, and the memories of those who didn't, especially the children.

"They are in front of my eyes," she says. "There are children I cannot forget, it's impossible to forget them. There were children I'd treat in the pediatric ward (for asthma and other ailments) and then I'd see them when they'd been wounded. It was like working on family. I couldn't look into their eyes when I worked on them. Sometimes I'd crash, I'd break down."

She still has nightmares and every loud sound reminds her of a warplane. During thunderstorms, she says, if her husband isn't home he calls her to reassure her that the noise isn't an airstrike. She replays conversations with some of her young patients, like five-year-old Mahmoud who lost a hand to shrapnel, and through tears asked Ballour why she'd cut it off. "What could I tell him when he asked me that? I cried a lot that day." And then there was the young boy who lost his arm at the shoulder. "I can still hear him crying out to me, asking me to help him."

In Syria, Ballour says, she felt useful, like she was making a difference. "Here, I sometimes I feel like I am nothing." She spends her days volunteering with a Syrian women's group and studying English in the hopes of immigrating to Canada, but several applications have been rejected.

"Honestly, the word refugee is a difficult label to wear. I love my country, my home, my life in Syria, my memories of it, but why did we become refugees? People should ask what is behind that word 'refugee' and why we escaped. I'm a refugee because I fled oppression and danger. I didn't want to leave. I would have preferred to stay in Ghouta, despite everything. We were besieged and bombarded and we persisted for six years, we didn't want to leave. It was a very, very difficult moment. … I wish that people who just look at us as refugees ask what we escaped from and why we left. It's a painful word but I didn't have a choice. I don't believe I had a choice."

Ballour intends to continue practicing medicine, but not as a pediatrician. Instead, she plans to shift to radiology, because she says, "I can't psychologically see patients any more, especially children." It's a sentiment that Namour understands. "I'm a surgeon who has spent his life in operating theaters, but after the bitter experience that we survived, after the inhumanity and suffering that we saw in Ghouta, I can't stand the sight of blood or being in an operating theater," he says, "Even though to me surgery is a technique, like a painter working on a portrait. We survived very difficult days."

Ballour is finding other ways to help her people. She is involved in a fund, named Al Amal (Hope), to support female leaders and medical workers in conflict zones. She is a strong advocate for helping the millions of displaced Syrians living in tent cities within Syria and the millions more who have become refugees beyond its borders.

The Syrian war has slipped from the news pages but Ballour is determined to inform people about the atrocities she witnessed in a nearly nine-year-long war that is nowhere near over. "I don't want to tell stories to make people cry and get upset, I want them to help," she says. "There are still so many people who need help."

And then, there is the issue of justice. The child whose parents were too afraid to tell her about the Hama massacre is now a female doctor determined to widely disseminate her testimony of the chemical attacks on Eastern Ghouta. "I must get this testimony to organizations that can one day hopefully hold the regime to account for this crime," she says. "I saw it. It happened."

"The one thing that helps me is knowing that we were in the right, on the right side of history because we opposed injustice," she says. "My conscience is clear. I had a duty toward people and I fulfilled it as best I could with the means at my disposal. But sometimes I regret leaving and blame myself, but then I say I had no choice. This is the truth of the conflicting feelings inside me. I tried to help, and that helps me, that I was a humanitarian."

PHOTOGRAPH BY RENA EFFENDI

BY RANIA ABOUZEID

Link to original source of NATIONAL GEOGRAPHIC