9-month-old Syrian baby among children killed in YPG attacks on Turkish border towns
Orient Net 2019-10-11 04:44:00
expressive image
Six civilians have been killed and 70 others injured in rocket and mortar attacks launched by People's Protection Units (YPG) militiamen from northern Syria to Turkey's southeastern Sanlıurfa and Mardin provinces on Thursday (October 10).
Three people, including a 9-month-old baby and an 11-year-old girl, were killed and 46 civilians were injured in mortar attacks, Sanlıurfa Governor's Office said.
According to the local governor, Syrian baby Muhammed Omar and another person were killed amid attacks against the Turkish border town of Akcakale that injured another 46 civilians.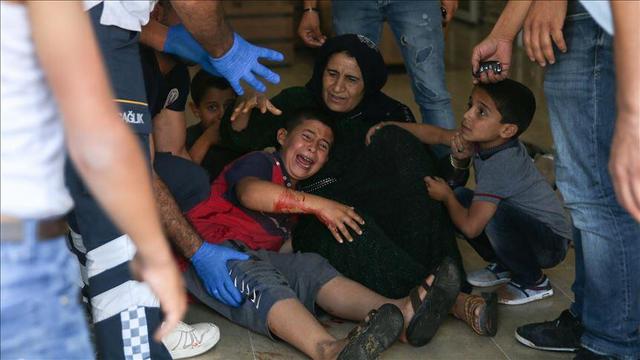 The PKK/PYD-YPG committed yet another heinous crime against humanity today. They killed two civilians, including a baby, in a mortar attack against Akcakale, a Turkish town at the Syrian border, Turkey's National Defense Ministry said on Twitter.
The Turkish Armed Forces neutralized the PKK/PYD-YPG terrorists who killed innocent civilians today, and destroyed their positions, the ministry added, extending its condolences to the Turkish nation.
An 11-year-old girl lost her life later Thursday in an attack on the Ceylanpınar district of Sanlıurfa. She was hit in the chest by shrapnel while playing in the street and died at the hospital, the Governor's Office said.
In the Nusaybin district of Mardin, a mother and her two teenage daughters were killed and 24 people were injured on Thursday. Fatma Yıldız, 48, and her daughters Emine, 12, and Leyla, 15, were killed in YPG rocket and mortar attacks, the local governor's office said.
Turkey launched Operation Peace Spring, the third in a series of cross-border anti-terror operations in northern Syria targeting terrorists affiliated with ISIS and the PKK's Syrian offshoot the People's Protection Units (YPG), on October 9 at 4 p.m.
The operation, conducted in line with the country's right to self-defense borne out of international law and UN Security Council resolutions, aims to establish a terror-free safe zone for Syrians return in the area east of the Euphrates River controlled by the US-backed Syrian Democratic Forces (SDF), which is dominated by YPG militiamen.
Based on DS