Iraqi death toll rises to 46 as police open fire on protesters
Orient Net 2019-10-04 13:05:00
expressive image
The death toll from days of violent demonstrations across Iraq surged to 46 on Friday (October 4), most of them killed in the last 24 hours as unrest rapidly accelerated and the country's most powerful cleric placed the blame squarely on politicians.
In a rare intervention, Ayatollah Ali al-Sistani, whose word is law for most of Iraq's majority Shi'ites, called on protesters and the security forces to avoid violence. But he also ordered political factions to respond to protest demands.
"It is sorrowful that there have been so many deaths, casualties and destruction," Sistani said in a letter read out by his representative during a sermon.
In an overnight TV address, Prime Minister Adel Abdul Mahdi said he understood the frustration of the public but there was no "magic solution" to Iraq's problems. He pledged reforms, though these drew scorn from demonstrators.
The demonstrations have escalated by the day since they first erupted on Tuesday, sweeping across the country spontaneously, without public backing from any organized political group and taking the authorities by surprise.
The demonstrators have burnt Iranian regime's flag.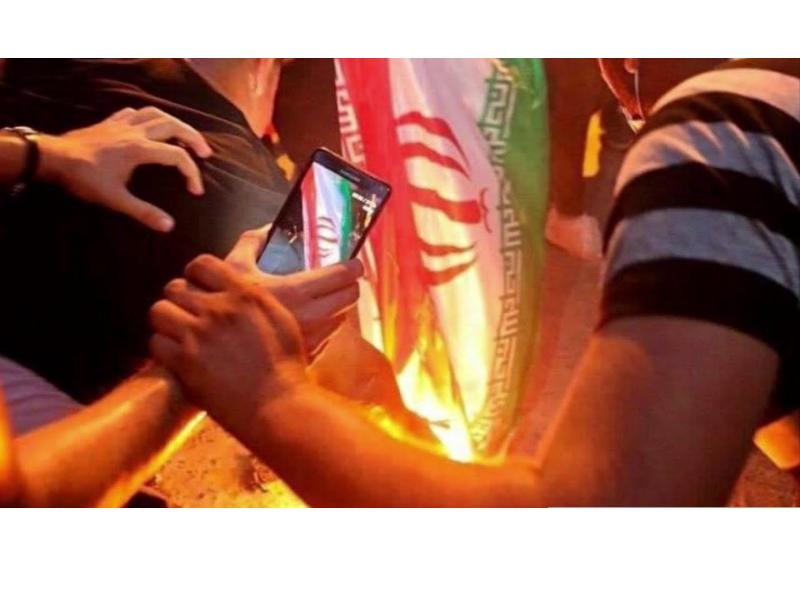 Security forces have fired live ammunition at crowds of mainly young men, and gunmen have fired back. Hundreds of people have been wounded, including members of the security forces as well as demonstrators.
Since October 1, security forces have used live ammunition and tear gas every day to disperse protesters demanding job opportunities, improved services, and an end to corruption.
Two police officers were among the fatalities, and at least 1,400 people have been injured.
Security forces used automatic weapons on military vehicles to fire at the ground, the bullets ricocheting into the crowd.
The authorities set curfews in the capital and in three other southern provinces.
The unrest is seen as the biggest challenge yet to Mahdi's government.
Amnesty International and the United Nations urged restraint in separate statements.
"It is outrageous that Iraqi security forces time and again deal with protesters with such brutality using lethal and unnecessary force. It is crucial that the authorities ensure a fully independent and impartial investigation," Lynn Maalouf, Amnesty International's Middle East research director, told Reuters.
Approximately 75 percent of Iraq is "offline" after major network operators "intentionally restricted" access, according to cybersecurity monitor NetBlocks.
With Internet access virtually shut off, protesters have had difficulties communicating with each other or posting footage of the latest clashes.
Based on Reuters, RFE