Germany contributes €1M to OPCW's trust fund for Syria missions
Orient Net 2019-07-02 10:13:00
expressive image
The Government of the Federal Republic of Germany is contributing €1M toward supporting the activities of the Trust Fund for Syria Missions at the Organisation for the Prohibition of Chemical Weapons (OPCW), which includes the work of the Declaration Assessment Team (DAT), the Fact-Finding Mission (FFM), and the Investigation and Identification Team (IIT).
The Fund supports the Organisation's special missions and contingency operations related specifically to Syria. The German contribution aims to equip the OPCW with the means to maintain its professional and impartial standards in addressing the threat from chemical weapons use.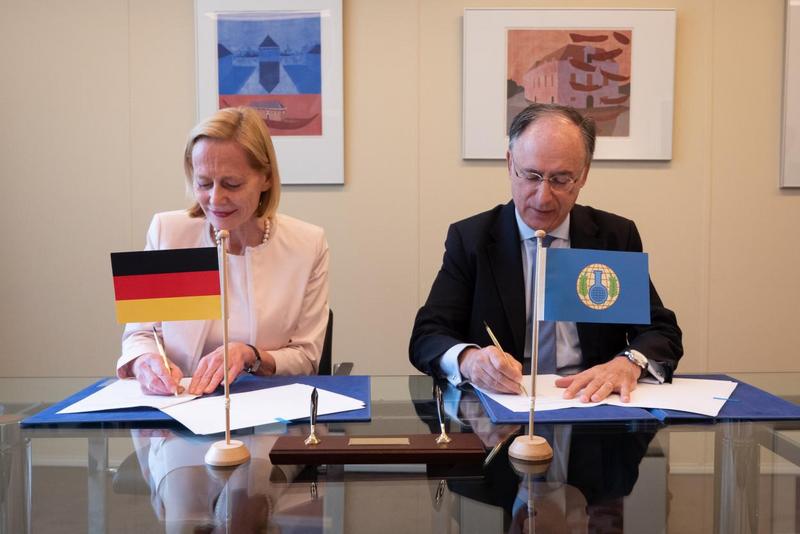 Assad regime has committed 216 chemical attacks in Syria since 23 December 2012, the date of the first recorded use of chemical weapons in Syria according to the Syrian Network for Human Rights (SNHR) April report.
These attacks killed at least 1,461 people, including 185 children, 252 women, and injured at least 9885 people.
The major chemical massacre in Syria took place in the eastern Ghouta on August 21, 2013, where more than 1,400 civilians were killed, and many others, mostly children and women, were affected.
The Organization for the Prohibition of Chemical Weapons (OPCW) confirmed the use of chemical weapons in Khan Sheikhoun city without identifying the perpetrator.
The Investigation and Identification Team (IIT) is mandated to identify the perpetrators of the use of chemical weapons in the Syrian Arab Republic. The IIT was launched following a decision adopted by the Conference of the States Parties to the CWC at its Fourth Special Session held in June 2018.
The OPCW Fact Finding Mission was set up in 2014 in response to persistent allegations of chemical weapon attacks in Syria, with the task to establish facts surrounding allegations of the use of toxic chemicals, reportedly chlorine, for hostile purposes.