US officials react to Iranian regime's threat to close Hormuz
Orient Net 2019-04-23 07:24:00
expressive image
US officials have strongly responded to IRGC Naval Force Commander's threat about closing the strait of Hormuz if Iran cannot ship its oil through the strategic waterway, RFE reported.
A senior US official who spoke on the condition of anonymity told reporters in Washington on Monday (April 22) that any move by Iran to close the strategic Strait of Hormuz in response to the United States ending waivers for purchases of Iranian oil would be unjustified and unacceptable.
US Secretary of State Mike Pompeo had also warned against uncalculated moves while announcing the elimination of waivers granted to buyers of Iran's oil.
When the US imposed sanctions in November of Iran's oil exports, it granted temporary waivers to eight friendly countries to continue buying limited amounts of Iranian oil. The waivers end May 1.
The United States sees no need to consider tapping the Strategic Petroleum Reserve in the aftermath of the waivers as Saudi Arabia and the United Arab Emirates have pledged to make up for shortcomings in the market, the official said.
He added that US officials are now looking at ways to prevent Iran from circumventing existing oil sanctions, the official added.
In another development, US envoy for Iran Brian Hook said during a briefing in Washington on Monday that waivers for Iranian oil were granted in November because conditions in the oil market did not permit zero exports by Iran, "but now the picture is much different," he said in a reference to the Saudi and UAE move.
Reuters quoted Hook as saying on Monday that the conditions in the global oil market have changed since last November, enabling the United States to eliminate all the waivers it had granted to eight economies to buy Iranian oil and demands to reduce imports from Iran to zero.
The agency also quoted Frank Fannon, US Assistant Secretary of State for Energy Resources as having said that on top of the change in market conditions, Saudi Arabia was taking "active steps" to ensure global oil markets were well supplied in terms of volumes and appropriate grades.
Earlier, President Donald Trump had also reiterated in a tweet that "Saudi Arabia and others in OPEC will more than make up the Oil Flow difference in our now Full Sanctions on Iranian Oil. Iran is being given VERY BAD advice by JohnKerry and people who helped him lead the US into the very bad Iran Nuclear Deal. Big violation of Logan Act?"
He was referring to a United States federal law that criminalizes negotiation by unauthorized persons with foreign governments having a dispute with the United States.
The president has not explained his accusation about Kerry allegedly dealing with Iran.
Earlier on Monday, US Secretary of State had announced in Washington that the US will eliminate in May all waivers granted to eight economies allowing them to buy Iranian oil without facing US sanctions.
Meanwhile, John Bolton, the White House's national Security Adviser tweeted in this regard: "Coupled with the recent designation of the IRGC as a Foreign Terrorist Organization, today's announcement should make the United States' resolve abundantly clear to Tehran."
Bolton also cited a previous tweet which said: "Under the President's leadership we have taken unprecedented steps to impose maximum pressure on Iran. We are going to zero waivers for oil exports from the corrupt Iranian regime, denying it the largest source of its revenue."
The threat by the Iranian IRGC navy commander was made shortly before Pompeo's remarks about putting an end to waivers.
Rear Admiral Alireza Tangsiri told Iranian regime's Arabic TV channel Al-Alam early on April 22, "The Hormuz Strait, based on law is an international shipping route and we will close it if we are banned from using it".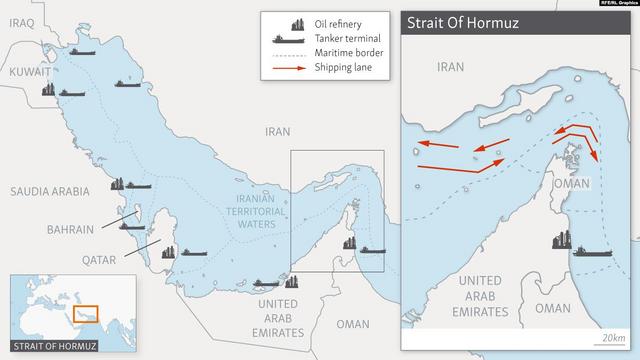 Iranian officials have made the threat about closing the strait of Hormuz at least a dozen times before. Tangsiri himself, had also threatened in February to close Hormuz, if Iran's oil exports dropped to zero under US pressure.
The Strait of Hormuz is the only waterway linking the Gulf to the open sea. With 20 percent of the world's petroleum passing through the strait, it is key to global oil supply. The strait has been the site of repeated standoffs between Iran and the United States.
Iranian oil exports have more than halved since the US imposed sanctions on Iran's exports in November 2018. Iran's oil output is expected to drop still further although it may not be reduced to zero. Iran can always find a way to export some oil overland to a dozen neighboring countries as oil market experts have been telling the press since Pompeo's announcement Monday morning.
The only other reaction by Iranian regime so far is an announcement via its oil ministry that it is consulting with its international trade partners and will show a response "soon."