Mediterranean crossings deadlier than ever, UNHCR report shows
Orient Net 2018-09-03 05:46:00
expressive image
Three years on from the shocking images of lifeless Syrian toddler Alan Kurdi on a Turkish beach, a new report by UNHCR, the UN Refugee Agency shows that crossing the Mediterranean Sea has become even more deadly.  
UNHCR's new "Desperate Journeys" report issued on Monday (September 3) shows that more than 1,600 people have died or gone missing while attempting to reach Europe so far this year.
The report shows that while the total number of people arriving in Europe has fallen, the rate of deaths has risen sharply, particularly for those crossing via the Mediterranean Sea. 
"This report once again confirms the Mediterranean as one of the world's deadliest sea crossings," said UNHCR's Director of the Bureau for Europe, Pascale Moreau. 
UNHCR called on Europe to increase access to safe and legal pathways for refugees, including by increasing resettlement places and removing obstacles to family reunification – helping to provide alternatives to potentially deadly journeys. 
The report outlines the dangers refugees face while traveling along land routes to or within Europe. Noting the steps that some have taken to prevent refugees and migrants from accessing their territory, the report urges States to grant those seeking international protection readily-available access to asylum procedures. It also appeals to States to strengthen mechanisms to protect children traveling alone and seeking asylum.
Best-selling author UNHCR Goodwill Ambassador Khaled Hosseini, himself a former refugee from Afghanistan, has published a new illustrated book, coinciding with the three-year anniversary of Kurdi's death. 'Sea Prayer' is dedicated to the thousands of refugees who have perished around the world while fleeing war, violence and persecution.
"When I saw those devastating images of the body of Alan Kurdi, my heart shattered," said Hosseini. "Yet, just three years on and despite thousands more people losing their lives at sea, our collective memory and urgency to do better seems to have faded," Hosseini said.
In June and July 2018, Hosseini visited Lebanon and Italy and saw the devastating impact on families who have lost relatives while attempting to reach Europe.
"In Sicily I visited a lonely, unkempt cemetery full of unmarked graves of people – including many children – who have drowned on journeys just like Alan's in the past years," said Hosseini. "Each one of those people is now reduced to just a number, a code on a grave, but they were all men, women and children who dared to dream of a brighter future. Three years on from Alan's death, it's time we came together to do more to prevent future tragedies and let our friends, families, communities and governments know that we stand with refugees," Hosseini added.
 "On the 2nd of September 2015, three-year-old Syrian refugee Alan Kurdi drowned in the Mediterranean.  As a father of two, when I saw the photo of little Alan's body lying limp on a Turkish beach, I tried to imagine how bludgeoning the loss must be to his father, who also lost his wife and another son on that same fateful day.  How did he endure seeing again and again photos of his boy's lifeless body lifted from the sand by a stranger, a person who did not know Alan's voice, or his laughter, or his favourite toy?" Khaled Hosseini, UNHCR Goodwill Ambassador said.
The top three nationalities entering Europe in the first seven months of 2017 were Nigerians, Guineans and Ivoirians (mostly via the Central Mediterranean route), as of July 2018, the primary nationalities have been Syrians, Iraqis (both mostly via the Eastern Mediterranean route) and Guineans (mostly via the Western Mediterranean route)
Numeir fled Syria when he was just 15 and travelled through Turkey, Greece and the Balkans, before finally reaching an uncle in Germany. By the time he arrived, in 2015, he was 16 and thousands of miles from his family. For three years he had just one wish:
"I want to share the beauty here with the people who are most important to me in the whole world – my family."
With UNHCR's help, Numeir was able to bring his family, who had since fled to Greece, safely to join him in Germany.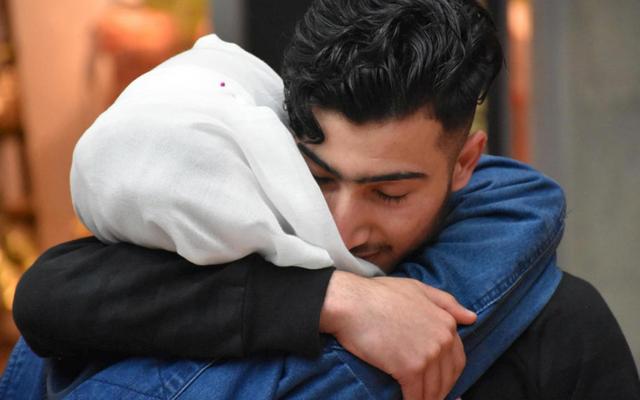 According to the report, April proved to be a peak in the number of arrivals by the Evros land route, with more than 3,600 people, mostly from Syria, recorded, compared to fewer than 1,500 every other month in 2018. This rise put great strain on the reception facility.
"Along the Eastern Mediterranean route, most arrivals in the first seven months of 2018 continued to be Syrians, Iraqis and Afghans, with many arriving in family groups. In addition, land and sea arrivals in Greece have almost doubled compared to the same period in 2017," the report said.
"Of those using other routes from Turkey, whilst over 500 people (almost all Syrians) had crossed by sea to Cyprus from Turkey in the first seven months of 2017, this year fewer than 100 arrived in the same period, although the Turkish Coast Guard rescued or intercepted several hundred others headed that way. This year an increase in Syrians arriving in Cyprus via air after traveling from Lebanon has also been observed," UNHCR report said.
"The Turkish Coast Guard had rescued or intercepted some 15,100 refugees and migrants as of the end of July this year compared to 9,400 in the same period in 2017. While over 1,000 Syrians crossed the sea each month to Greece between March and May, in June and July, the number of Syrian arrivals on the Greek islands dropped to 400 and 500, respectively," the report added. 
A recent BBC report on the Moria Refugee Camp in the Greek island of Lesbos shows children as young as 10 attempting to commit suicide due to appalling living conditions. Some 8,000 people stay in the camp which has a capacity of 2,000 people and is described as "the worst refugee camp on earth."